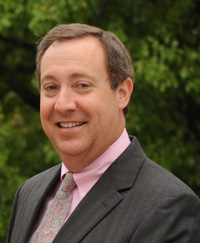 EDUCATION
Although born in Philadelphia, Dr. Hoffman spent much of his childhood living in Southern California, graduating from Palisades High School in 1981. Dr. Hoffman received his Bachelors of Science (B.S) in Biology and a minor in history from the University of Redlands in 1985, where he graduated Magna Cum Laude. He returned to Philadelphia to attend the University of Pennsylvania's School of Dental Medicine and earned his Doctor of Dental Medicine (D.M.D.) in 1989 and was inducted into the (OKU) Omicron Kappa Upsilon dental honor society. Dr. Hoffman furthered his education at the Ostrow School of Dentistry of USC by completing his two-year residency in Advance Orthodontics in 1991. Simultaneously, he received his Masters of Science (M.S) in Craniofacial Biology in 1991, while publishing his Master's Thesis "A Posteroanterior Skeletal Anaylysis of Class II Subdivion Maloccusions".
PRIVATE PRACTICE/CLINICAL PROFESSOR
Dr. Hoffman opened Calabasas Orthodontics in 1992 and continues to remain in private practice. In addition to his practice, Dr. Hoffman has been teaching orthodontics as an Associate Clinical Professor of Orthodontics at the Ostrow School of Dentistry of USC since 2005.
PROFESSIONAL ORGANIZATIONS
Dr. Hoffman is an active member of the following professional organizations:
American Association Of Orthodontics
Pacifica Coast Society Of Orthodontics
California Society of Orthodontics
World Federation of Orthodontics
American Dental Association
California Dental Association
San Fernando Valley Dental Society
Alpha Omega International Dental Fraternity
Omicron Kappa Upsilon Dental Honor Society
OUTSIDE THE OFFICE
Dr. Hoffman and his wife Lisa have lived in Calabasas since 1991, raising their two sons, Eric and Jonathan, both of whom have attended the local Calabasas public schools. When not working he enjoys playing softball, going to his kids' games, and cheering his favorite teams to victory-Go Phillies! Go Trojans!
COMMUNITY MATTERS
Being part of the Community is very important to Dr. Hoffman. He has served as President of the Greater Mulwood Homeowner's association as well as President of Calabasas Park Estates Owner's Association and served on the Legislative Affairs Committee for the San Fernando Valley Dental Society. Dr. Hoffman has also lectured for the Alpha Omega Dental Fraternity, San Fernando Valley Chapter and the Alpha Omega Dental Fraternity chapter at USC.
Calabasas Orthodontics and Dr. Hoffman are known for Giving Back to the Community. The local elementary, middle and high schools, churches, synagogues, local sports leagues, as well as various charities can always find Dr. Hoffman's support. Dr. Hoffman and his wife Lisa have co-chaired many charity golf tournaments including Haven House (a domestic abuse shelter); participated in Relay for Life; walk for Pancreatic Cancer and Breast Cancer awareness month. Calabasas Orthodontics and the Hoffman family our proud supporters of Operation Gratitude and collect candy every October for Operation Gratitude's care packages for our soldiers. We welcome your candy donations!